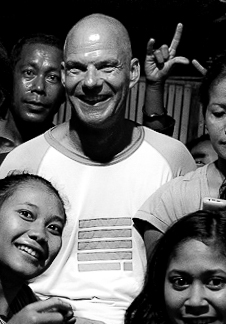 MICHAEL 53 YEARS
Author & Director
Michael Niermann studied sport science at the German Sport University in Cologne before starting work as a photo- grapher, journalist and filmmaker. Notable works include: Michael Schumacher - Close-up. (2001, 80 mins); Vitali Klitschko – His Hardest Battle, 2014, 30 minutes, and Pretty Ugly – Steps, 2007, 60 mins - an obser- vational doc on a new dance company. phone: +49 171 8353031, mail: michael2010@web.de Why have i done this Film? Watch this short video.
---
A Co Production Seventyone Films / Encompass Films
DOMINIC 38 YEARS
Director of Photography
Dominic took a leap of faith from his day job as Environmental Consultant and dived into the world of adventure filmmaking in 2007. He set off from the northern tip of Alaska on a tandem bicycle and spent two years pedaling south to Argentina, inviting random strangers to join him as he documented his extraordinary journey. The result was an award-winning film entitled 'Take a Seat'. Now based in LA, his first feature film as director, Coming to my Senses, is currently on the festival circuit.
---
A Co Production Seventyone Films / Encompass Films
ANSGAR 43 YEARS
The Producer
Ansgar studied in Münster (business administration) and in Wiesbaden (Media management) and began work as an independent editor in 1996. He has been managing director and head of productions at 7T1 Media and Seventyone Films for 15 years. He produced the theatrically-released feature documentary "Keep the Flame - Don't Pray to the Ashes," which was nominated for Prix D´Italia. He has exec-produced numerous TV programs and reportages, as well as product and advertising films for many top brands - including the Sauber F1 Team in Switzerland.
---
A Co Production Seventyone Films / Encompass Films
NADIA 38 YEARS
Co Producer
In 2010 Nadia founded Encompass Films with Dominic, where she serves as the business director and lead producer. She has produced two award-winning seasons of 'Take A Seat' for NBC Universal Sports, which won the Cable Fax Award for Best Sports Series. Nadia has been instrumental in turning Encompass from a fledgling production house to a company known for narrative rich storytelling in the world of outdoor sports and adventure travel. Nadia has managed several international distribution deals in which the 'Take A Seat' format is being distributed extensively on networks worldwide. Beside several shorts Nadia produced her first feature documentary COMING TO MY SENSES which was released in 2017. Beside that she works as a producer for branded content for both television and web. She has secured clients such as Hendricks Gin, Reebok, Easton Bell, Black Diamond Equipment and more.
---
A Co Production Seventyone Films / Encompass Films